She will now be able to start her fellowship on Monday 16th November. So a very busy but statisfying week, well done Dr Mel.
Gustavo her host is very happy, although he did suggest she starts work at 6am on Monday. We hope this was a joke! On Saturday, Gustavo and his family took us to Valparaiso. On the way we stopped at an organic vineyard to buy some Chilean wine. Then we had lunch in a very tall, spanish restaurant. Excellent paella, pulpo and salmon. We had pisco sours to celebrate Mel's PhD (mine was ginger and merkén flavoured for extra zing!).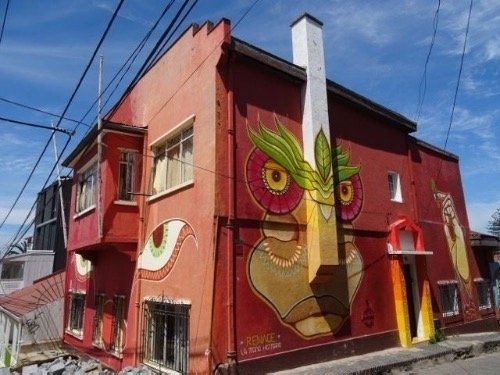 After lunch we walked around Valparaiso which is a very colourful, port city of Chile with 45 steep hills. The buildings are very brightly coloured and it was a lovely spring day with blue sky and sea as the backdrop. We visted La Sebastiana, a house built by the Nobel Prize winning Chilean poet Pablo Neruda. The house is quite ecentric, very tall and has amazing windows that overlook the city and the sea. It is full of stained glass and other items he collected while he lived there, many with a maritime feel. On the bottom of the 5 floors was a mosaic of pebbles depicting Patagonia and Antarctica. We finished off the day with a stroll along the sea wall and onces (coffee and cake).