Two pairs have set up nests on either side of one of the OTC sites, hence they have swooped and squawked at Marisol and I; and then they calmed down after realising that we meant no harm. We've found a skua playing with our small ibuttons and pulling at a few OTC fixtures. We had also buried some moisture/temperature sensors and cables in the moss but a skua managed to find one and remove it as well as some moss close by.
Anna (a resident skua on Ardley that we named after a blue ANA tag on her leg) even quietly watched me set up some small UV radiation filters over the moss. Then immediately after I had finished and walked away, she approached the screens, pulled one of them out of the moss with her beak and carried it away – perfect timing! It was a little amusing especially since we did manage to carefully reclaim and reposition the screen.
Gustavo, Tavo and I plan to board a plane today or tomorrow to leave King George Island - who knows if the weather allows it! Marisol, who is staying behind until the end of February, will need to avoid the skuas and continue to collect weather data and moss samples. Good luck Mari!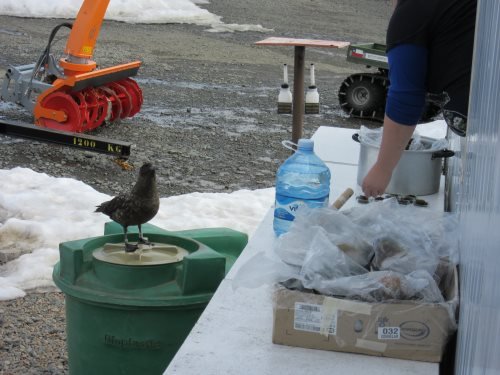 A skua checking out some of our moss samples and experiments near the lab