Items filtered by date: Tuesday, 05 February 2019
Tuesday, 05 February 2019 20:41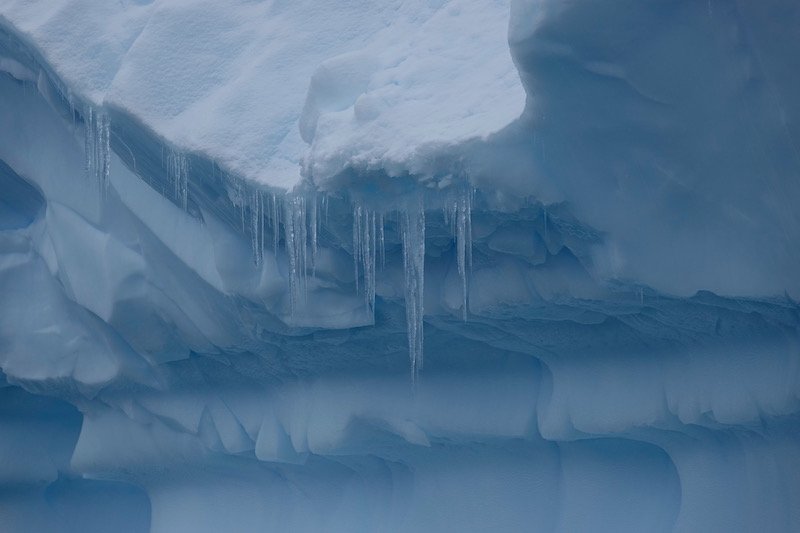 We were supposed to go ashore at Neko Harbour but it was ice bound. The wind has blown the sea ice close to shore and so we can't get ashore in the zodiacs. It's too dangerous to risk puncturing them.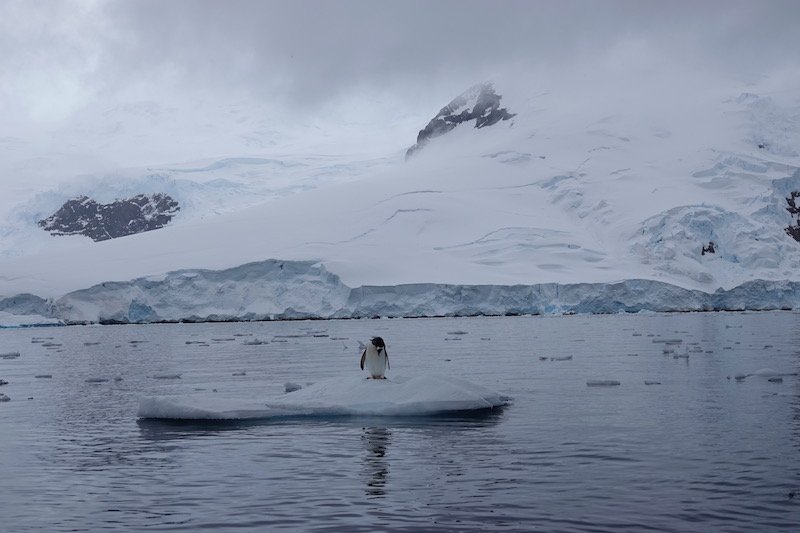 So, we have a glorious glacier cruise and see more spectacular ice formations both cascading off the continent and in the icebergs and sea ice.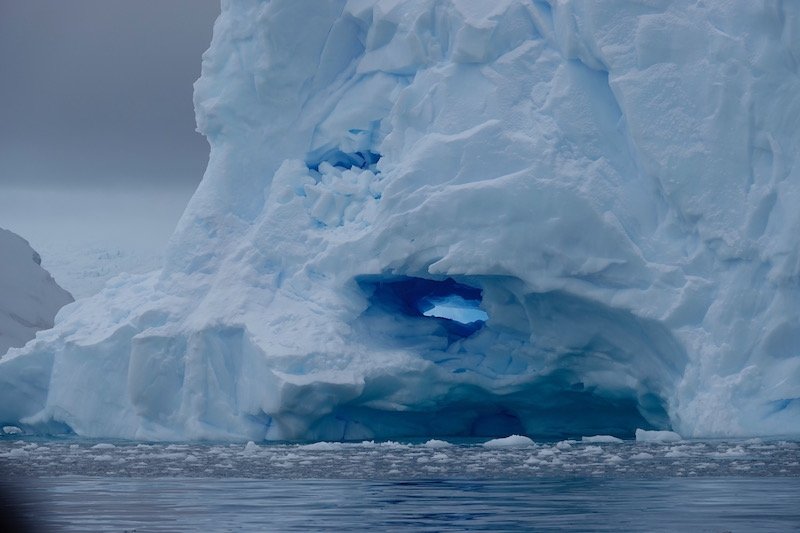 We collect clear, black ice for the bar and see glacial deposits where rocks and silt are layered into the icebergs.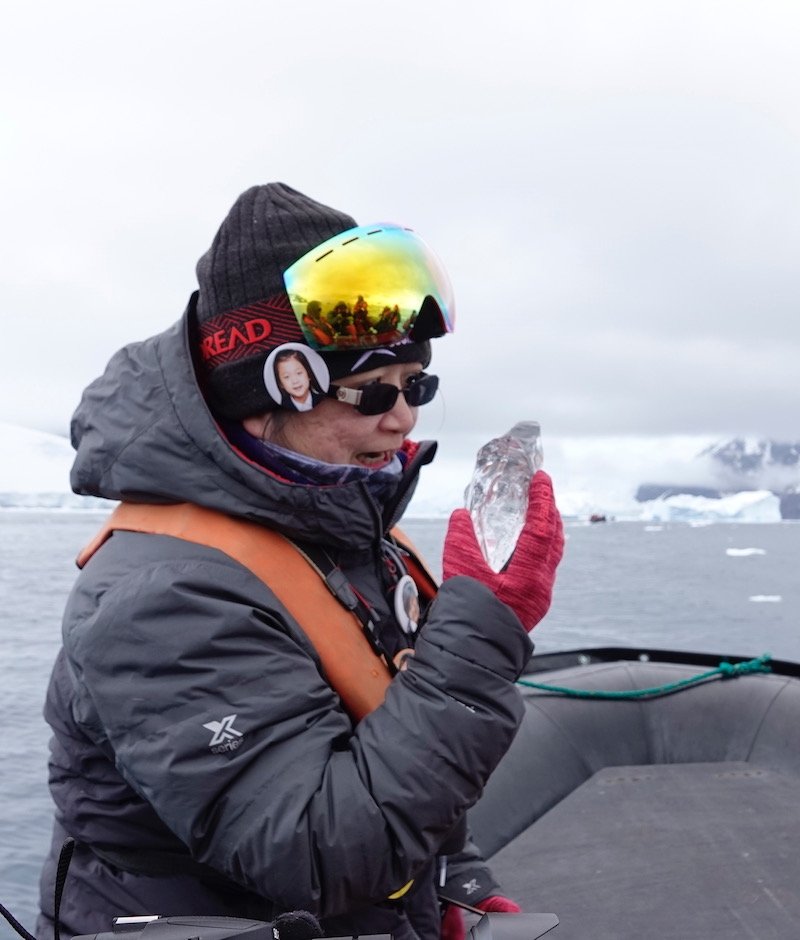 We also find some moss on a Point near Neko Harbour. I am hoping it's a new description and we can go back to study it! Although it's on a pretty sheer rock face so it would be tough to collect. I think we would need a drone to collect samples for us.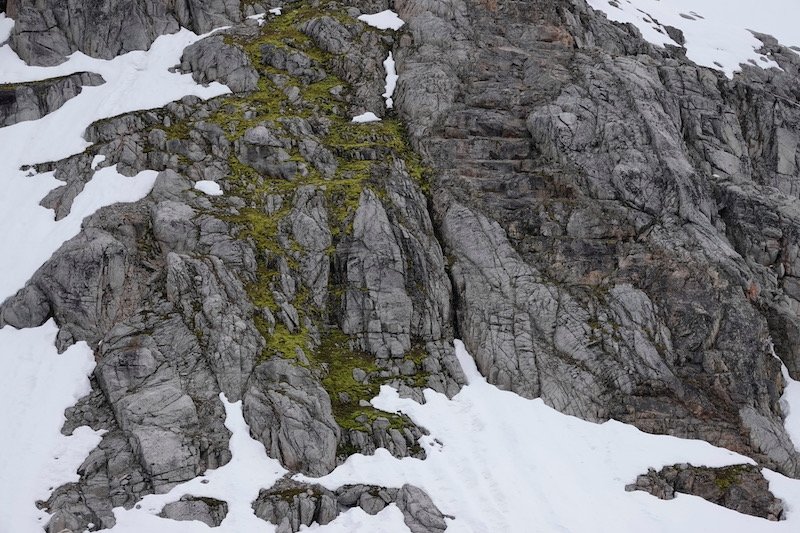 We were on an iceberg cruise on the zodiac and our guide was Juan, a fellow plant enthusiast so when I spotted green through my binoculars and asked if it was moss or algae, he was happy to get closer to check it out. It was on a huge volcanic plug with full length dykes running down the steep cliffs.
On one side was a stream of moss cascading down terraced steps in the rock face. Very exciting. Just above the moss we spotted 2 Antarctic tern chicks which were probably helping to fertilise the moss stream.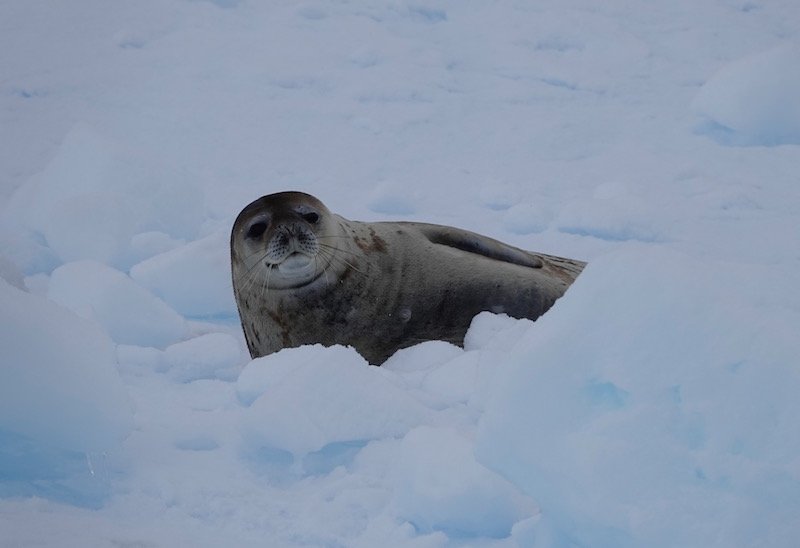 Then of course we were miles from the ship and the weather closed in so it was foggy on the way back and for the first time we had to navigate back to the ship on GPS. It was cold and felt properly Antarctic in the zodiac and we had to keep an eye out for bergy bits of sea ice. Very exciting for us all because it felt a bit intrepid, but I didn't want to get a reputation for being the last one back on the zodiacs and holding up the ship. Don't want to set a bad example!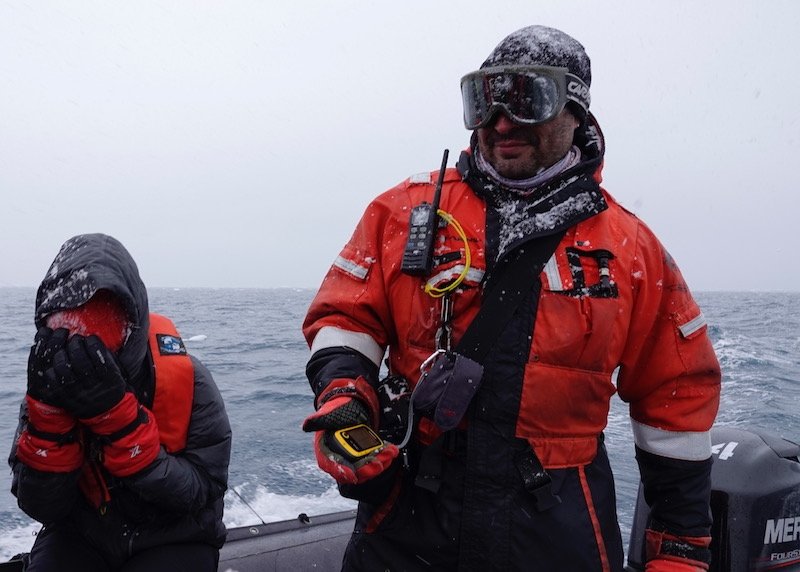 Tuesday, 05 February 2019 20:05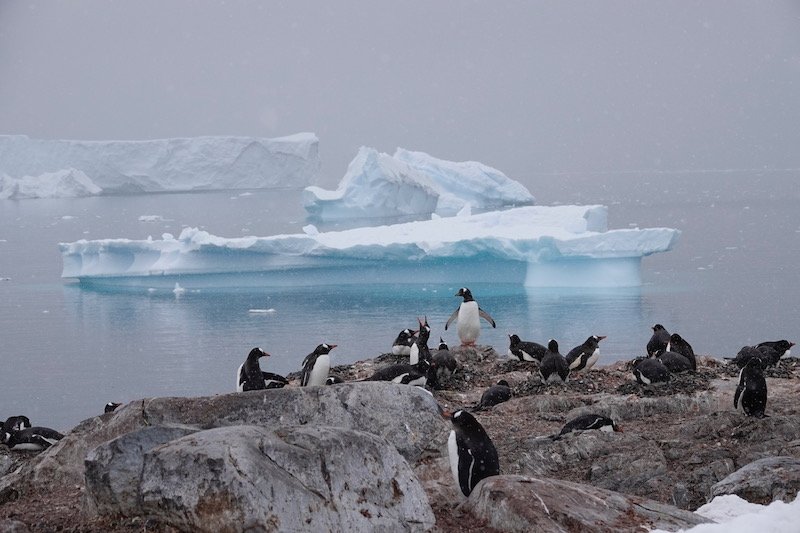 Each day the participants on the voyage spend 4-5 hours on the leadership program and we attempt to have a landing or a zodiac cruise if landings are not possible. I am leading the on board science program with Dr Katherine Duncan from the University of Strathclyde. Kate was a participant on the second voyage (HB2) back in March. We hadn't met before this voyage but had talked on whats app and zoom calls whilst preparing the program along with the science faculty founders, Dr Justine Shaw (University of Queensland) and Dr Mary-Anne Lea (University of Tasmania). Kate is a wealth of knowledge about the HB program, the ship and what we need to bring with us. Luckily, both she and Dr Sophie Adams (our wellbeing guru and also a HB2 alumna) brought real coffee, an important component for wellbeing on the ship as elsewhere!
Having only met on the 28thDecember, Kate and I are now sharing a cabin, running a science theme together, enjoying our new-found friendship and planning future science grant applications. We also get to be on one of the first zodiacs ashore in order to supervise the landings and are often last back as we round up the stragglers who just want an extra minute ashore and, that last photograph or video.
The next landing is on Cuverville Island (7thJan) where we find Gentoo penguins nesting and skuas patrolling.
Cuverville Island is very snowy and the chicks were tiny, but at one end it has the most amazing wall of moss, a whole cliff face, green and grey against the white-grey sky. I would love to visit again and take moss samples for dating, to see how old these moss forests are.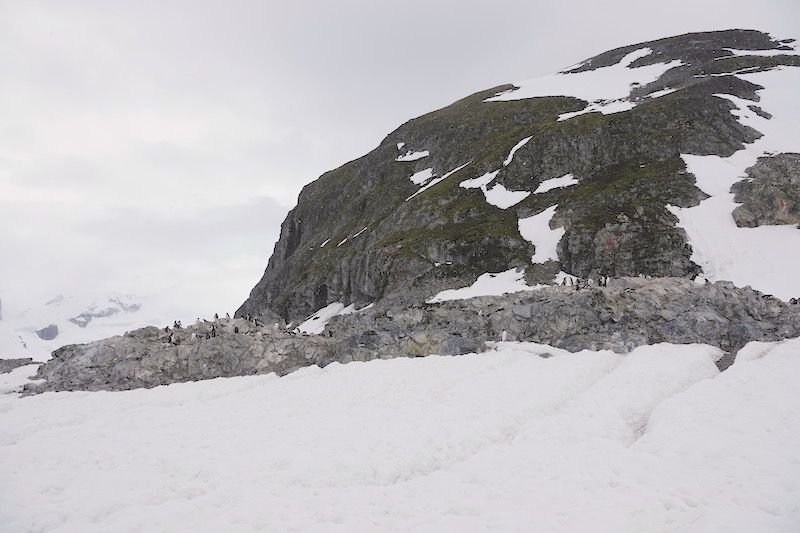 We watched penguins rolling eggs or feeding chicks as well as well as mating. Presumably many of these Gentoo penguins have also had aborted attempts at rearing their first clutch of chicks this season.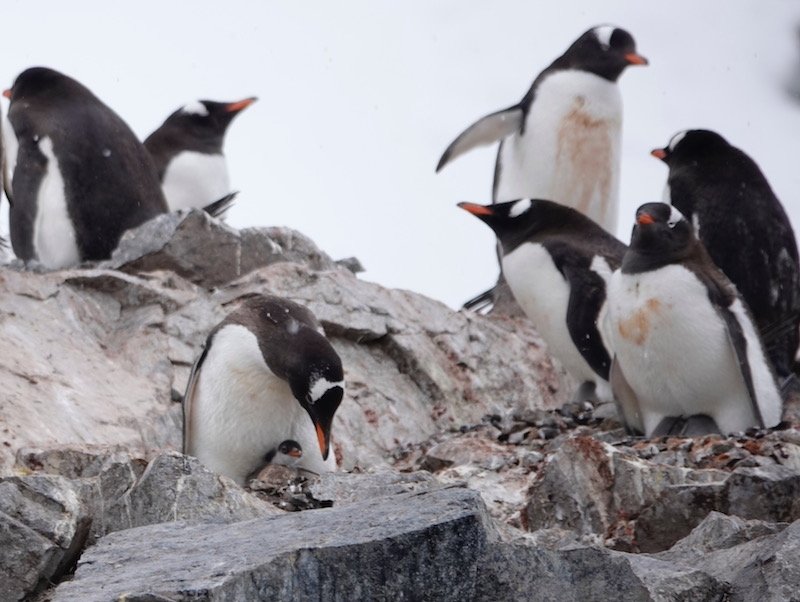 I take the opportunity to segue from penguin sex to moss sex to the amusement of the nearby participants and Fern Hames (Arthur Rylah Institute)our on-board Sci-Comms facilitator.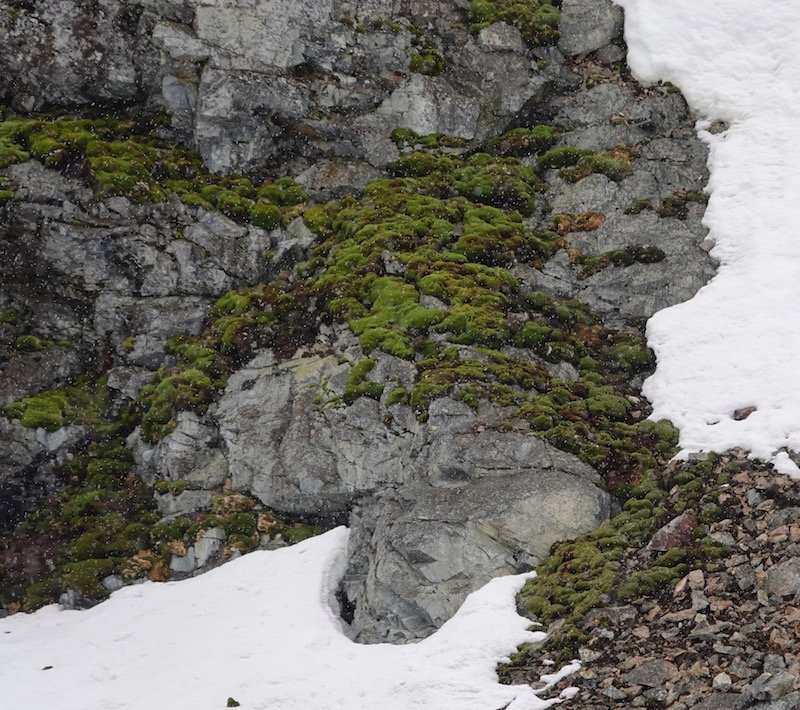 On the way back to the ship we have a spectacular iceberg cruise, full of amazing blue, turquoise and white shapes against the grey of the sea.